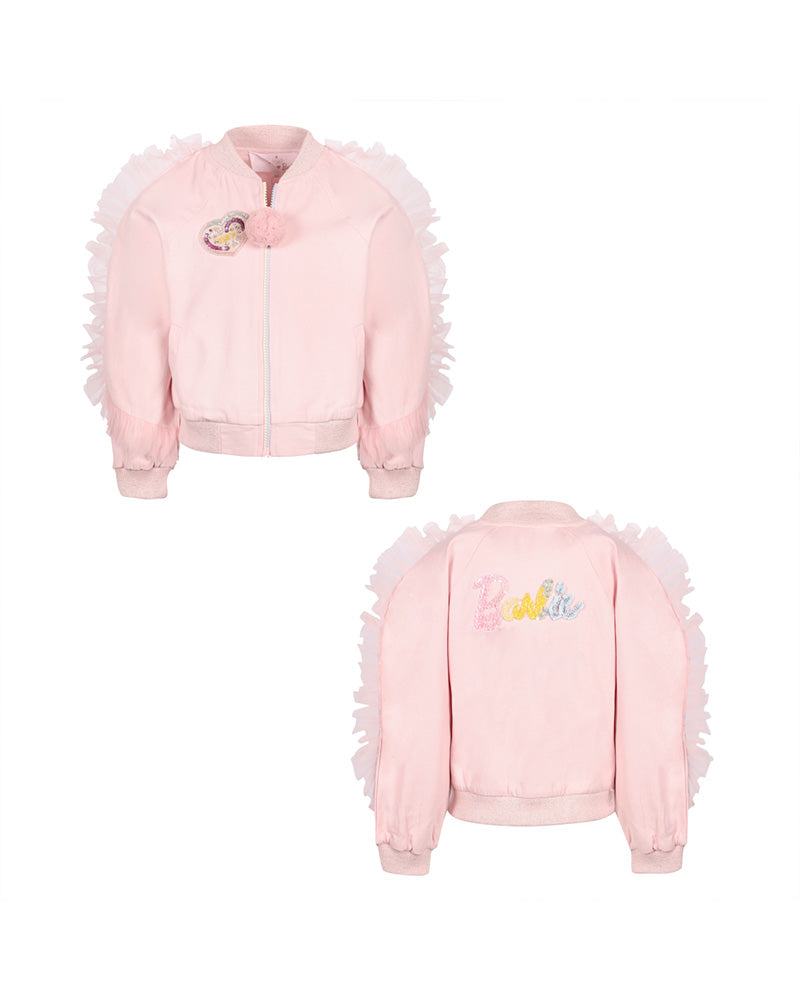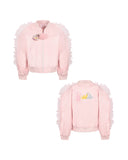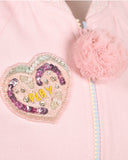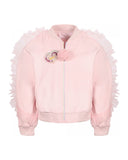 Tutu Du Monde
Barbie x Tutu Du Monde 'Let's Play' Bomber Jacket
RM350.00 rental RM1,200.00 retail
Tutu Du Monde presents a Barbie bomber jacket in pink, boasting ruffled tulle along the sleeves, a multi-colored sequined Barbie logo on the back, and a bedazzled heart-shaped embellishment on the front. Ideal for special occasions, your little princess will love showing off in this bomber jacket.
Dress Details
Pink
Glitter, appliqued, ruffle and sequin detailing
60% Nylon Knit 40% Cotton Knit

Zip-up

Our style code: GDTDM008C

Designer style code: 104418-CRDPNK
Designer Details
Escape to the ethereal world of TUTU DU MONDE. A world of wonder and whimsy, filled with femininity, fun and fantasy… and where anything is possible.  Be princesses, fairies, flower-girls or ballerinas. Like French ballet costumes, Tutu Du Monde designs high quality, hand-crafted, hand-dyed garments in a signature brand of dusty pastels, silk ties, sparkly sequins, crystal beads and feather pieces. Comfortable to wear, with a focus on simple, timeless designs. In breathable, lightweight fabrics, the garments are made to last and become lovelier with wear.
Size Guides
All sizes listed on Lylamod follow the international sizing label of the designer. If you are familiar with a designer, please order the size you would usually order. Otherwise, use the size chart as a general guideline. All measurements are in centimetres. 
Girls' Size Chart
| SIZE | HEIGHT IN CM | SIZE | HEIGHT IN CM |
| --- | --- | --- | --- |
| 2/3 TODDLER | UP TO 99 CM | 7/8 YEARS | 120 CM TO 131 CM |
| 4 YEARS | 100 CM TO 104 CM | 9 YEARS | 123 CM TO 128 CM |
| 5 YEARS | 105 CM TO 110 CM | 10 YEARS | 129 CM TO 134 CM |
| 6 YEARS | 111 CM TO 116 CM | 11 YEARS | 135 CM TO 144 CM |
| 7 YEARS | 117 CM TO 122 CM | 12 YEARS | 145 CM TO 154 CM |
| | | 16 YEARS | UP TO 170 CM |
Please note that this is an approximate guide only. Sizing may vary between dresses and designers.
Dress Measurements
| Length | Chest | Waist |
| --- | --- | --- |
| cm | cm | cm |
View measuring instructions here. Please note each piece is measured flat, and the listed measurement and actual garment may differ slightly.
Delivery
You have 3 delivery options:
STANDARD DELIVERY: Delivery in 3-5 business days. For bookings made a week in advance of your event or more.

SAME-DAY DELIVERY (For Customers in the Klang Valley only): Book before 12pm on the delivery day. For urgent same-day rentals, email Customer Care (or send a message via WhatsApp).
SELF-COLLECTION: Collection is free from our showroom in Subang Jaya.
Need more help?
Email Customer Care for more specific sizing information and alterations advice.