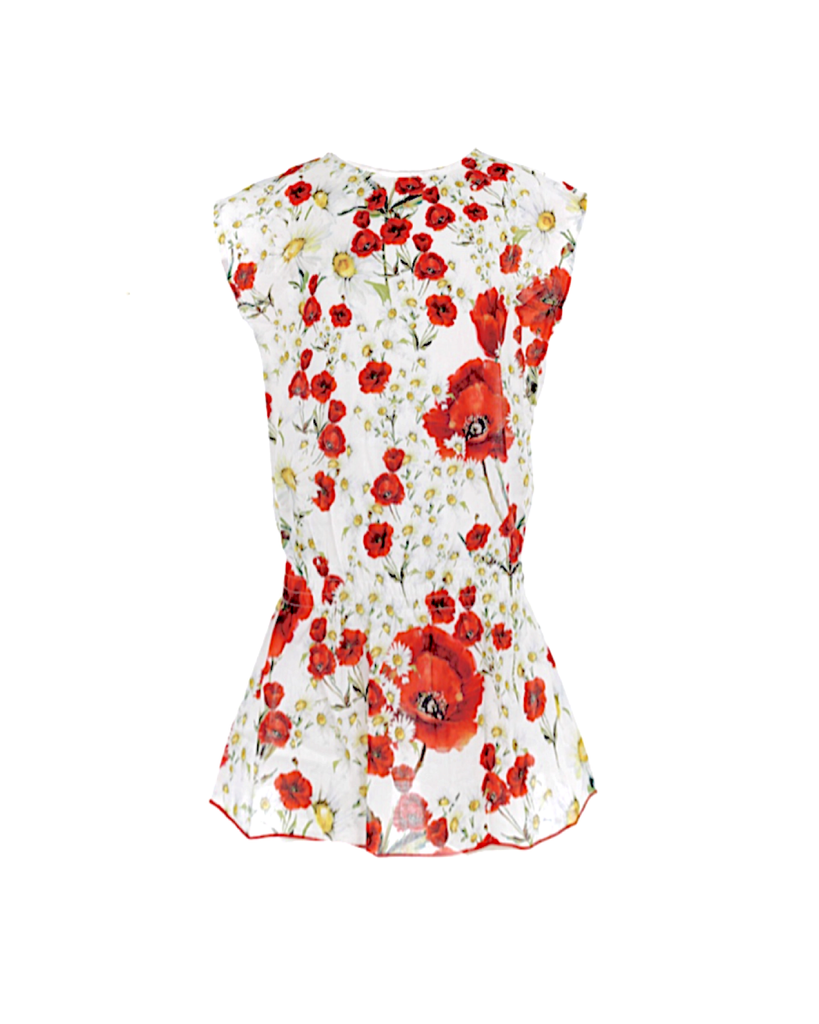 Dolce & Gabbana Girls
Poppy and Daisy Kaftan Dress
RM250.00 rental RM700.00 retail
This adorable piece features bright poppies and daisies all over. Made from cotton-poplin in an easy-going silhouette. The smart material makes the dress practical, while the print vibrant and fun. Pair this precious piece with open-toe sandals and a straw hat for an extra-adorable look.
Dress Details
Red and white, cotton
D&G Poppy and Daisy print
100% cotton
Lined
Pullover style
Elasticated waist
Made in Italy
Our style code: GDDG036
Designer style code:
Designer Details
The combination of traditional Italian tailoring and dressmaking with great attention to quality and detail has made Italian designers, Domenico Dolce and Stefano Gabbana, fashion royalty. Founded in Milan in 1985, Dolce & Gabbana is now a global luxury brand and icon, but their Mediterranean roots continues to inspire the label. The Dolce & Gabbana line is a blend of lavish hues and signature prints, crafted from high-quality fabrics. The success of their kids' and mini me collections, with a focus on the bond of family, brings back the label's penchant for Italian glamour and romance. For vibrant prints, feminine silhouettes and statement eveningwear - head to the masters at Dolce & Gabbana. 
Size Guides
All sizes listed on Lylamod follow the international sizing label of the designer. If you are familiar with a designer, please order the size you would usually order. Otherwise, use the size chart as a general guideline. All measurements are in centimetres.
Girls' Size Chart
| SIZE | HEIGHT IN CM | SIZE | HEIGHT IN CM |
| --- | --- | --- | --- |
| 2/3 TODDLER | UP TO 99 CM | 7/8 YEARS | 120 CM TO 131 CM |
| 4 YEARS | 100 CM TO 104 CM | 9 YEARS | 123 CM TO 128 CM |
| 5 YEARS | 105 CM TO 110 CM | 10 YEARS | 129 CM TO 134 CM |
| 6 YEARS | 111 CM TO 116 CM | 11 YEARS | 135 CM TO 144 CM |
| 7 YEARS | 117 CM TO 122 CM | 12 YEARS | 145 CM TO 154 CM |
| | | 16 YEARS | UP TO 170 CM |
Please note that this is an approximate guide only. Sizing may vary between dresses and designers.
Dress Measurements
| Length | Chest | Waist |
| --- | --- | --- |
| cm | cm | cm |
View measuring instructions here. Please note each piece is measured flat, and the listed measurement and actual garment may differ slightly.
Delivery
We are now serving only customers within Klang Valley and Kuala Lumpur area. For all other states, please email us at customercare@lylamod.com. You have 3 delivery options:
STANDARD DELIVERY: Delivery in 3-5 business days. For bookings made a week in advance of your event or more.

SAME-DAY DELIVERY: Book before 12pm on the delivery day. For urgent same-day rentals, email Customer Care (or send a message via WhatsApp).
SELF-COLLECTION: Collection is free from our showroom in Subang Jaya.
Need more help?
Email Customer Care for more specific sizing information and alterations advice.