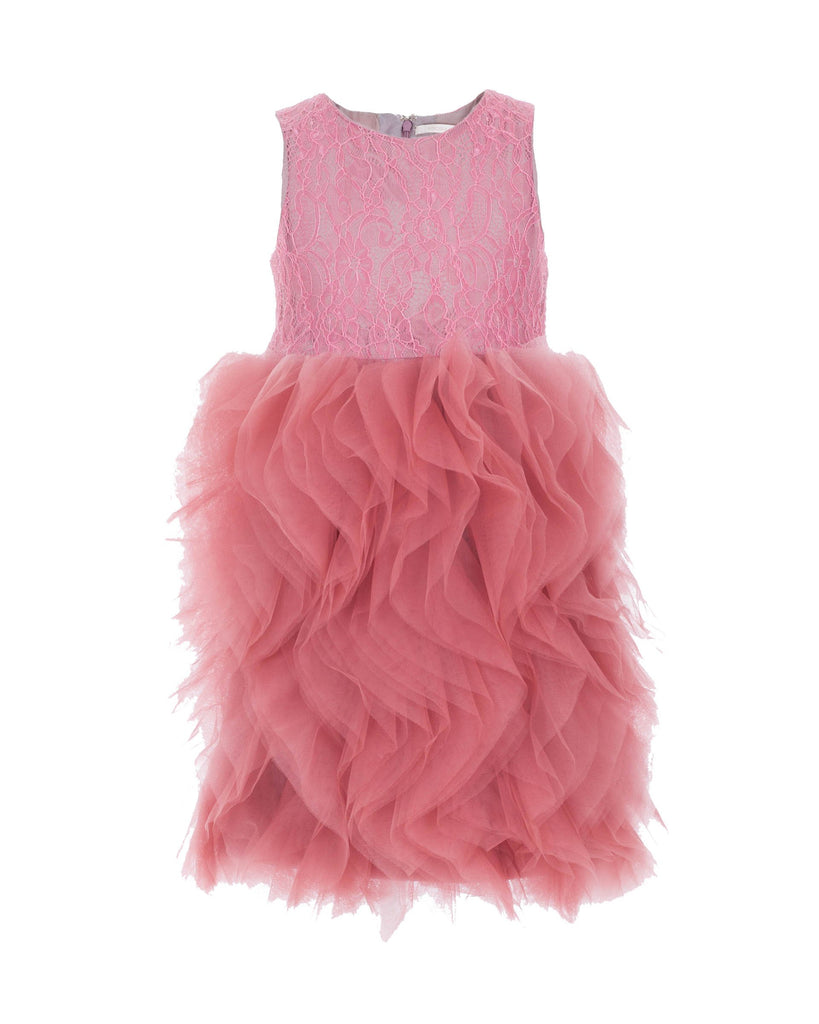 MISCHKA AOKI
Admiring Pink Avenue Dress
RM800.00 rental RM6,500.00 retail
'Admiring Pink Avenue' dress by girls' couture label, Mischka Aoki. A beautiful antique-effect lace overlay bodice in a delicate paisley pattern. The dress itself is in a stunning dusky, shade of antique-rose. Layers of tulle arranged to look like petals, gives the dress an enchanting quality. The dress comes fully-lined with silky, smooth satin. Let her dreams come true in this fairytale dress.
Dress Details
Antique rose, tulle
100% nylon; Lining: 100% polyester
Concealed hook and zip fastening along back
Our style code: GDMA002
Designer style code:
Designer Details
Known as the only "haute couture of children's clothing",  designer and brand owner Mischka Aoiki crafts special occasion pieces like no other. Her aesthetics of timelessness, beauty and elegance befit little princesses around the world. Since launching in 2009, Aoiki is a global phenomenon and Hollywood favourite. Among the mini-style mavens, North West and Blue Ivy count as her fans. Look no further than Aoki's extraordinary collections, designed for children aged 1 to 16 years. Find pieces beautiful beyond expectations and guaranteed to captivate at formal occasions.
Size Guides
All sizes listed on Lylamod follow the international sizing label of the designer. If you are familiar with a designer, please order the size you would usually order. Otherwise, use the size chart as a general guideline. All measurements are in centimetres.
Girls' Size Chart
| SIZE | HEIGHT IN CM | SIZE | HEIGHT IN CM |
| --- | --- | --- | --- |
| 2/3 TODDLER | UP TO 99 CM | 7/8 YEARS | 120 CM TO 131 CM |
| 4 YEARS | 100 CM TO 104 CM | 9 YEARS | 123 CM TO 128 CM |
| 5 YEARS | 105 CM TO 110 CM | 10 YEARS | 129 CM TO 134 CM |
| 6 YEARS | 111 CM TO 116 CM | 11 YEARS | 135 CM TO 144 CM |
| 7 YEARS | 117 CM TO 122 CM | 12 YEARS | 145 CM TO 154 CM |
| | | 16 YEARS | UP TO 170 CM |
Please note that this is an approximate guide only. Sizing may vary between dresses and designers.
Dress Measurements
| Length | Chest | Waist |
| --- | --- | --- |
| 70 cm | 62 cm | 62 cm |
View measuring instructions here. Please note each piece is measured flat, and the listed measurement and actual garment may differ slightly.
Delivery
We are now serving only customers within Klang Valley and Kuala Lumpur area. For all other states, please email us at customercare@lylamod.com. You have 3 delivery options:
STANDARD DELIVERY: Delivery in 3-5 business days. For bookings made a week in advance of your event or more.

SAME-DAY DELIVERY: Book before 12pm on the delivery day. For urgent same-day rentals, email Customer Care (or send a message via WhatsApp).
SELF-COLLECTION: Collection is free from our showroom in Subang Jaya.
Need more help?
Email Customer Care for more specific sizing information and alterations advice.