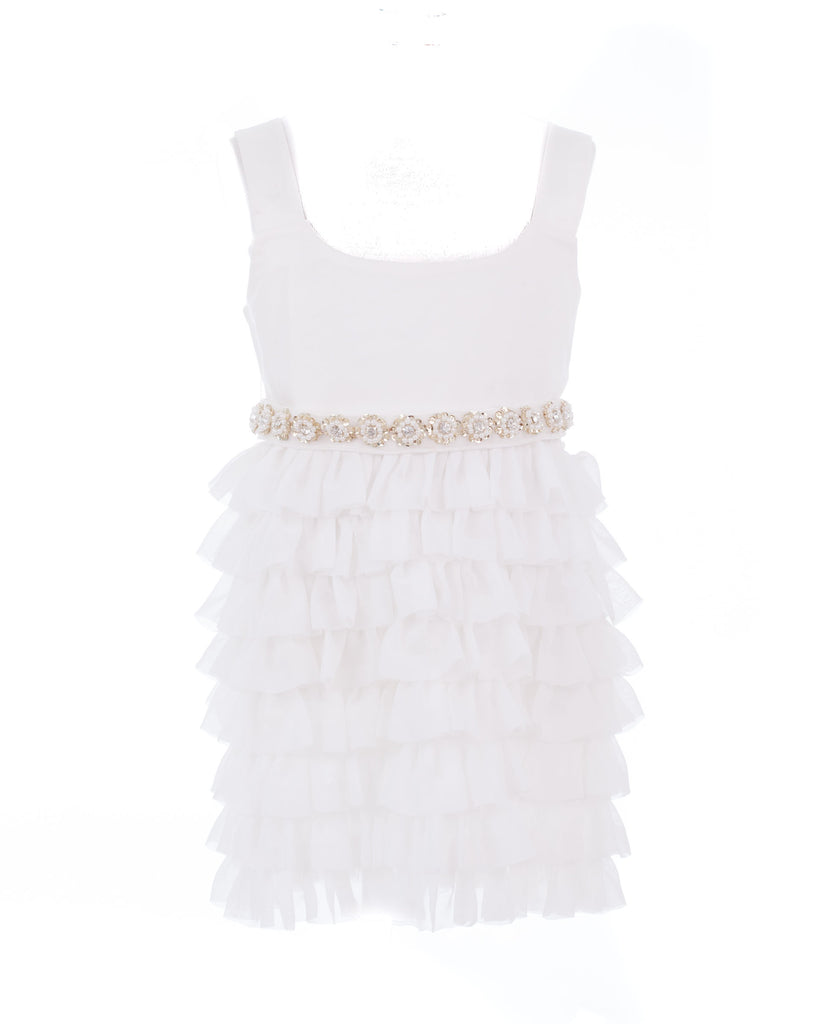 Miss Grant
Ecru and Gold Belted Tiered Party Dress
RM250.00 rental RM1,000.00 retail
More ruffled tulle layers feature in this stunning partydress from Italian label, Miss Grant. An empire-style top crafted from luxurious fine smooth cotton. The dress boasts a decorative crystal and pearl belt, attached to a multi-layered tiered tulle skirt. Perfect for little princesses.
Dress Details
Ecru, gold and silver
100% polyester; Insert: 97% cotton, 3% elastane; Lining: 96% viscose, 4% elastane
Decorative belt with elasticated hook fastening
Concealed zip fastening at the side
Internal lining
Made in Italy
Our style code: GDMG003
Designer style code: 06G27306415
Designer Details
For over 40 years Italian brand Miss Grant has delivered stylish and elegant childrenswear for all occasions. Emphasis on values of innovation, quality and original styling honours authentic Italian craftsmanship. Distributing from the flagship store in Milan to the most prestigious department stores in the world. Miss Grant is on the market with brands like So Twee by Miss Grant and Microbe by Miss Grant. Glamorous details, ballerina tulle and lavish ruffles are the hallmark of the brand's signature dresses. View our entire collection of Miss Grant party dresses here.
Size Guides
All sizes listed on Lylamod follow the international sizing label of the designer. If you are familiar with a designer, please order the size you would usually order. Otherwise, use the size chart as a general guideline. All measurements are in centimetres.
Girls' Size Chart
| SIZE | HEIGHT IN CM | SIZE | HEIGHT IN CM |
| --- | --- | --- | --- |
| 2/3 TODDLER | UP TO 99 CM | 7/8 YEARS | 120 CM TO 131 CM |
| 4 YEARS | 100 CM TO 104 CM | 9 YEARS | 123 CM TO 128 CM |
| 5 YEARS | 105 CM TO 110 CM | 10 YEARS | 129 CM TO 134 CM |
| 6 YEARS | 111 CM TO 116 CM | 11 YEARS | 135 CM TO 144 CM |
| 7 YEARS | 117 CM TO 122 CM | 12 YEARS | 145 CM TO 154 CM |
| | | 16 YEARS | UP TO 170 CM |
Please note that this is an approximate guide only. Sizing may vary between dresses and designers.
Dress Measurements
| Length | Chest | Waist |
| --- | --- | --- |
| 60 cm | 72 cm | 68 cm |
View measuring instructions here. Please note each piece is measured flat, and the listed measurement and actual garment may differ slightly.
Delivery
We are now serving only customers within Klang Valley and Kuala Lumpur area. For all other states, please email us at customercare@lylamod.com. You have 3 delivery options:
STANDARD DELIVERY: Delivery in 3-5 business days. For bookings made a week in advance of your event or more.

SAME-DAY DELIVERY: Book before 12pm on the delivery day. For urgent same-day rentals, email Customer Care (or send a message via WhatsApp).
SELF-COLLECTION: Collection is free from our showroom in Subang Jaya.
Need more help?
Email Customer Care for more specific sizing information and alterations advice.