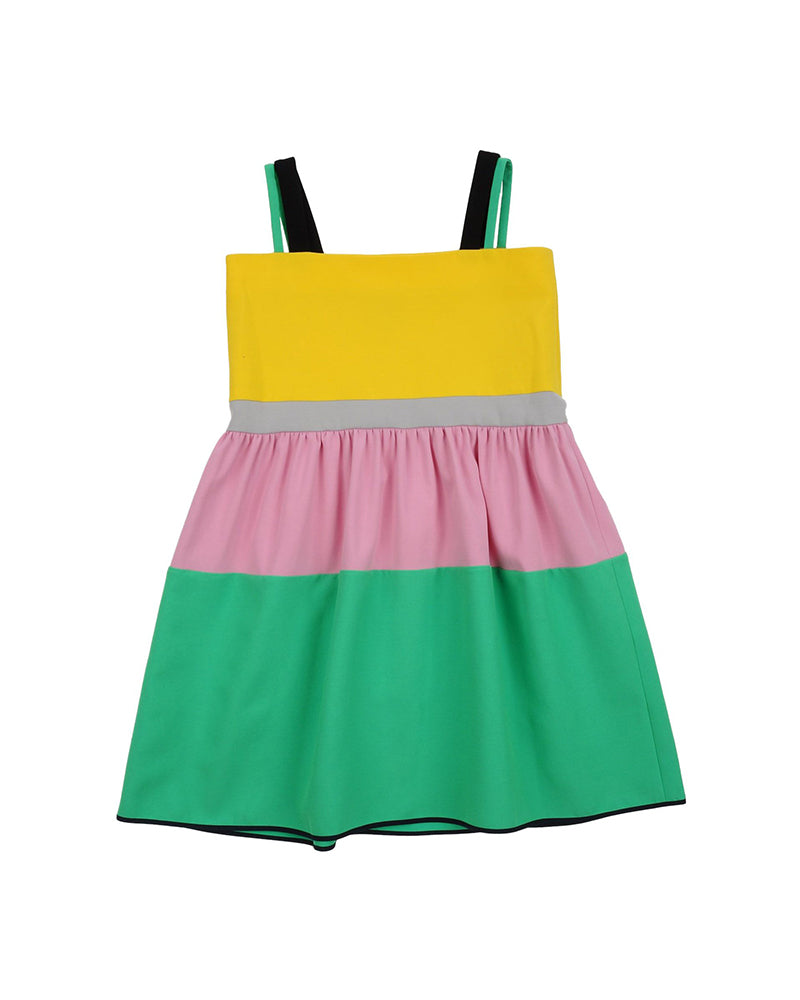 ROKSANDA BLOSSOM
Striped Colour Block Dress
RM250.00 rental RM2,100.00 retail
Sophisticated Mini-me look by Roksanda Ilincic feature signature colour blocking in pastel-tone bands. Designed from smooth, pure cady, this A-line dress has a square neckline and layered straps in strong sorbet colour and contrast black. Wear an actual piece of art in modern colour-block design, which makes this dress both sophisticated and fun.
Dress Details
Multicoloured, cady 
100% cotton
Lined 
Pulls over the head 
As seen from the Roksanda Blossom Spring Lookbook
Featured in Glam Confetti Lookbook
Our style code: GDRB007
Designer style code:
Designer Details
Colour-blocking Queen Roksanda Ilincic, designer of iconic luxury womenswear label Roksanda recreates her signature styles for a few seasons in a kidswear line for Girls aged 4 to 8. Known as Blossom, the mini label retains its playful use of colour and shape that we have come to love. Inspired by her daughter, Ilincic uses extra special fabrics for the kid's dresses with some of the pieces taken directly from the adult collection and made specifically for little girls. Now you can rent this special collection of Mini-me Roksanda colour block dresses curated only for mother and daughter on Lylamod.com. 
Size Guides
All sizes listed on Lylamod follow the international sizing label of the designer. If you are familiar with a designer, please order the size you would usually order. Otherwise, use the size chart as a general guideline. All measurements are in centimetres.
Girls' Size Chart
| SIZE | HEIGHT IN CM | SIZE | HEIGHT IN CM |
| --- | --- | --- | --- |
| 2/3 TODDLER | UP TO 99 CM | 7/8 YEARS | 120 CM TO 131 CM |
| 4 YEARS | 100 CM TO 104 CM | 9 YEARS | 123 CM TO 128 CM |
| 5 YEARS | 105 CM TO 110 CM | 10 YEARS | 129 CM TO 134 CM |
| 6 YEARS | 111 CM TO 116 CM | 11 YEARS | 135 CM TO 144 CM |
| 7 YEARS | 117 CM TO 122 CM | 12 YEARS | 145 CM TO 154 CM |
| | | 16 YEARS | UP TO 170 CM |
Please note that this is an approximate guide only. Sizing may vary between dresses and designers.
Dress Measurements
| Length | Chest | Waist |
| --- | --- | --- |
| cm | cm | cm |
View measuring instructions here. Please note each piece is measured flat, and the listed measurement and actual garment may differ slightly.
Delivery
Express shipping within Malaysia. Same-day delivery and Self-Collection service for Klang Valley and Kuala Lumpur customers only. For all other states, choose Standard Delivery :-
STANDARD DELIVERY: Delivery in 3-5 business days. For bookings made a week in advance of your event or more.

SAME-DAY DELIVERY: Book before 12pm on the delivery day. For urgent same-day rentals, email Customer Care (or send a message via WhatsApp).
SELF-COLLECTION: Collection is free from our showroom in Subang Jaya.
Need more help?
Email Customer Care for more specific sizing information and alterations advice.